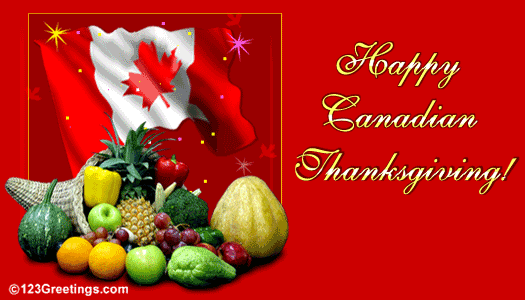 On January 31, 1957, the Canadian Parliament proclaimed:
A Day of General Thanksgiving to Almighty God for the bountiful harvest with which Canada has been blessed…to be observed on the 2nd Monday in October.
This doesn't mean that Thanksgiving wasn't celebrated in Canada before 1957. In fact, its origin goes back to 1578 when explorer Martin Frobisher safely returned from a search for the Northwest Passage. According to Wikipedia, Frobisher held a formal ceremony in Newfoundland to give thanks for surviving the long journey. In 1604 French settlers began holding feasts of thanks, forming 'The Order of Good Cheer.'
For a number of years after 1799, Thanksgiving days were observed from time to time. Refugees from the American Revolution brought some American Thanksgiving customs to Canada. It took until 1879 for Thanksgiving Day to be observed annually, but the date and theme changed from year to year. While it was often gratefulness for an abundant harvest, sometimes it was held for civic reasons as well.
How is Thanksgiving Day currently celebrated in Canada? Usually with a special family meal, often a turkey dinner, that showcases the bounty of our harvest. Mid-October means that many gardeners still have fresh produce to serve, which we definitely wouldn't have in late November when the American Thanksgiving takes place! In the Comer household, where we highly value local foods, we make a supreme effort for every possible part of the meal to be made from food grown and produced in our neighborhood.
As is the case in the USA, most people don't think of it so much as giving thanks to God as generally being thankful for a good life, if they even think past the fact that it is a statutory holiday and thus a paid day off work. But in Canada it is NOT linked to a kickoff shopping frenzy for the Christmas season. Whew, as ten weeks would be rather a long frenzy!
It seems, from the various Americans I know, that American families make an even greater effort to spend Thanksgiving together than Christmas. That's not the case in Canada. While we certainly love to gather our loved ones around our tables, the importance of this holiday pales in comparison to Christmas.
What should our hearts contemplate on this special day?
Psalm 100


Shout of joy to the Lord, all the earth.
Worship the Lord with gladness;
Come before him with joyful songs.
Know that the Lord is God.
It is he who made us, and we are his;
We are his people, the sheep of his pasture.

Enter his gates with thanksgiving
and his courts with praise;
Give thanks to him and praise his name.
For the Lord is good and his love endures forever;
His faithfulness continues through all generations.
(New International Version)
Around our Thanksgiving table, each person states one thing in particular for which they are thankful. Tell me, what have you got to praise God for? Celebrate Thanksgiving with me today!
(Cross-posted to International Christian Fiction Writers Blog, of which I'm a member.)