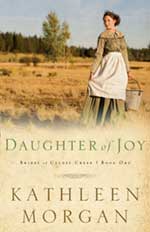 I recently downloaded the free Kindle version of Daughter of Joy, first in a historical romance series, Brides of Culdee Creek, by Kathleen Morgan. (The free Kindle version is no longer available on Amazon.)
I don't read a lot of historical fiction, but I picked this one up because I'd read a previous novel of Morgan's, a fantasy entitled Giver of Roses (which apparently I've never reviewed…hm…).
Abigail Stanton lost her husband and her young son in separate incidents a couple of years previous to the start of this story. She's determined that she must now find employment, and what she finds is that the Culdee Creek Ranch (near Colorado Springs) needs a housekeeper. The problem? Owner Conor MacKay has a reputation. His wife left him years ago, and since then he's taken a native lover. Following her death, he's had a stream of housekeepers/mistresses. Abigail is willing to run Conor's household, cook his food, do his laundry, and take care of his nine-year-old daughter, Beth. She is not willing to warm Conor's bed.
Beth is a challenging child. She's the apple of her daddy's eye and has been given free rein ever since that terrible incident at school, which no one talks about. The child has a learned mistrust of housekeepers, who seem to have no use for her other than getting to her father.
Conor, for his part, has turned his back on God and forbids Abigail from mentioning God's name in his house. He's bitter and prickly, protecting himself and Beth from further manipulation.
With those threads, Kathleen Morgan weaves a story of redemption in the midst of brokenness. If that's all I said, you'd expect to see a novel with a somewhat predictable story arc, but Morgan has some surprises up her sleeve that turn this tale back on itself before coming to a satisfying conclusion.
As a writer, one of the things I paid close attention to was Conor MacKay, who quite honestly was self-centered and very unlikeable for a fair chunk of the novel. We beginning writers are often cautioned about creating unlikeable characters as they're hard to pull off. It is difficult to put the reader firmly on the side of such a character, when all the reader really wants to do is give them a firm shake. I couldn't see what Abigail saw in him, other than that she'd promised Beth she would stay and that she didn't have another job prospect. Morgan masterfully brings Conor MacKay around in incremental changes, barely noticeable at first.
I'm interested to see where Morgan takes this series in future volumes.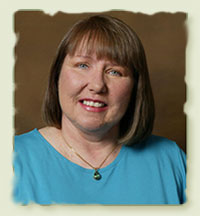 Kathleen Morgan began her career writing contemporary romances and soon moved to historical and futuristic romances. She sold her first book, a futuristic romance, in April 1990 while stationed in Korea as an Army nurse. Additional romances soon followed, until she had sold a total of fifteen books in the general market, establishing a loyal readership along the way.
Since that time, she has received numerous awards for her work, including a Romantic Times Reviewer's Choice award and Career Achievement award, and The Literary Times award for Literary Excellence in the Field of Romantic Fiction. She was also a Romance Writers of America RITA finalist.
Kathleen now focuses her writing talents in the area of inspirational fiction, offering readers characters who struggle to redefine their growing faith in everyday life.